When it comes to finding the healthiest and tastiest dog food, I have found that a little research goes a long way. After all, we want our pets to remain healthy, strong, and happy for as long as possible. In today's popular grocery markets, there is a plethora of dog foods, from various manufacturers, which features a healthy dog running across a yard with titles like "100% natural" or "fortified with the nutrition your dog needs". The challenge is, however, that many of these popular brands, although cheap, are filled with preservatives, cornmeal, and other superfluous fillers. I recognize the fact that it can be difficult spending a pretty penny on quality dog food or even taking the time out of your already busy schedule to research quality food options for your pets, which is why I created this blog! Below, you will find a list a dog foods I highly recommend, alongside its price as listed on Petsmart's or Amazon's website:
Dry Kibble: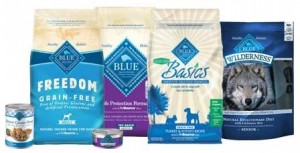 Blue Buffalo is an EXCELLENT choice and prices range from $15.99 – $54.99, depending on size
Wellness Core Dog Food  is another fine option for your dog with prices ranging from $16.99 – $66.99
Innova Natures Table  is a tested, tried, and true quality dog food for dogs and prices range from $14.99 – $61.99
Wet Food:
Fresh Pet Select Slice and Serve is an amazing quality dog food and prices range from $20.00 for 6lbs.
Newman's Own Organics Grain Free (canned) is another viable, popular choice by pet owners, with prices ranging from $30.62 for 12 cans.
Wellness Core Dog Food (Canned) 31.95 for 12 cans.
 Of course, there are many other excellent brands out there, and you can always buy the above mentioned items from Amazon.com, like I do, for more affordable rates.   I say spend the money now on quality food for your furry friend and avoid the hefty vet bill later that can result from poor nutrition!